Where To Go – Petersen Museum 'Seeing Red' Ferrari Exhibition is Now Open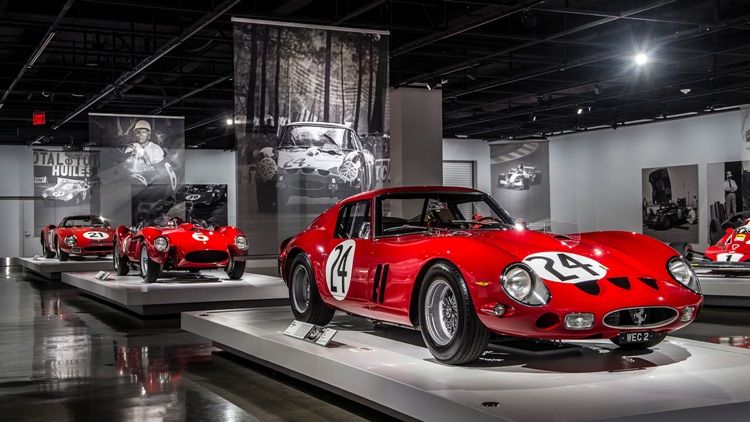 Ferrari Beverly Hills is pleased to support Seeing Red: 70 Years of Ferrari at the Petersen Automotive Museum. On display until April 2018, Seeing Red: 70 Years of Ferrari features an incredible collection of significant road and racing Ferrari's that make the history of the Prancing Horse.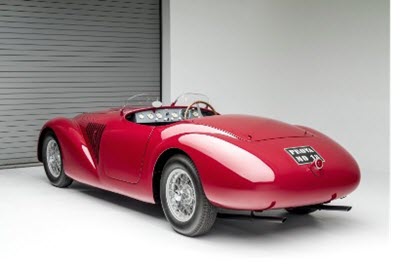 1947 FERRARI 125 S

TOP SPEED: 130 MPH
HORSEPOWER: 118
ENGINE: 1.5 LITER V-12
NUMBER BUILT: 2 (TOTAL 125 S'S)

Dubbed the 125 S, it was the first vehicle Enzo Ferrari equipped with the now-legendary Ferrari V-12 engine and went on to claim victory at the Terme di Caracalla circuit in Rome soon thereafter.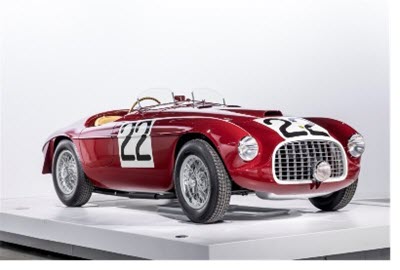 1949 FERRARI 166 MM BARCHETTA

TOP SPEED: 136 MPH HORSEPOWER: 140
ENGINE: 2 LITER V-12
NUMBER BUILT: 25 (TOTAL SERIES I BARCHETTAS BY TOURING)

The 166 MM features an overhead cam V-12 engine. The "MM" in the model designation stands for Mille Miglia, an iconic Italian long-distance race won by this car in 1949.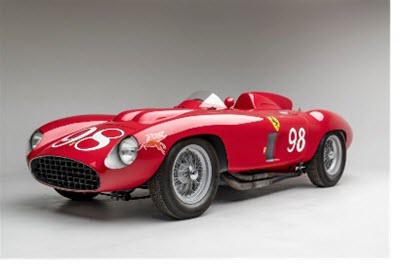 1955 FERRARI 857 SPORT

TOP SPEED: 160 MPH HORSEPOWER: 280
ENGINE: 3.4 LITER INLINE-4
NUMBER BUILT: 4 (TOTAL 857 SPORTS)

This 857 Sport is part of the Monza series that featured a new twin-cam, four-cylinder engine and a lightweight aluminum body by Carrozzeria Scaglietti. Of the four built, is the only one with a rear fin.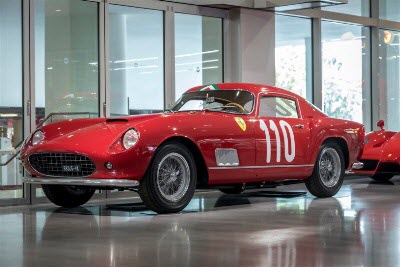 1958 FERRARI 250 TR SPYDER

TOP SPEED: 167
MPH HORSEPOWER: 270
ENGINE: 3 LITER V-12
NUMBER BUILT: 19 (TOTAL 250 TR'S BY SCAGLIETTI )

One of the most successful race cars built by Ferrari, the 250 TR, or Testa Rossa was a Scuderia Ferrari team car. This 250 TR debuted in Argentina at the 1000km Buenos Aires, where it was driven by Luigi Musso and Olivier Gendebien.
1961 FERRARI 250 GT CALIFORNIA SPYDER SWB

TOP SPEED: 173 MPH
ENGINE: 3 LITER V-12
HORSEPOWER: 280
NUMBER BUILT: 56 (TOTAL CALIFORNIA SPYDER SWB'S)

The 250 California was first proposed to Luigi Chinetti in 1957 by John von Neumann, Ferrari's West Coast representative, who believed that there was a ready market for a chic, expensive convertible in the United States.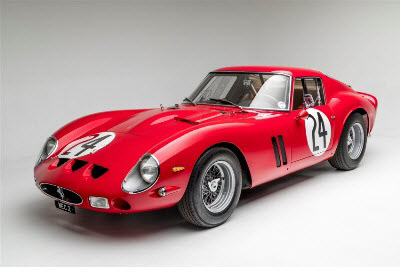 1963 FERRARI 250 GTO

TOP SPEED: 173 MPH
HORSEPOWER: 300
ENGINE: 3 LITER V-12
NUMBER BUILT: 39 (TOTAL 250 GTO'S)

With sleek coachwork by Scaglietti and mechanics engineered by Giotto Bizzarrini, the Ferrari 250 GTO was well positioned to dominate European racing, winning the FIA GT World Championship from 1962 to 1964.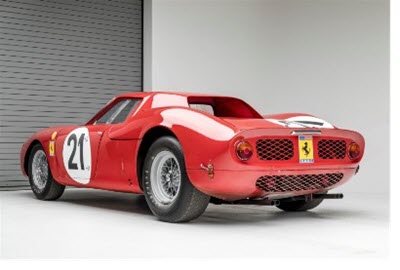 1965 FERRARI 250 LM

TOP SPEED: 183 MPH
ENGINE: 3.3 LITER V-12
HORSEPOWER: 320
NUMBER BUILT: 32 (TOTAL 250 LM'S)

The 250 LM (Le Mans) was designed by Pinin Farina and introduced at the 1963 Paris Motor Show. This 250 LM was imported to the United States by Luigi Chinetti, the legendary Ferrari dealer and founder of Ferrari's North American Racing Team (N.A.R.T.) in 1964. The following year, it was used by N.A.R.T. drivers Jochen Rindt and Masten Gregory to win the 24 Hours of Le Mans, the last of six consecutive outright Ferrari victories at Le Mans.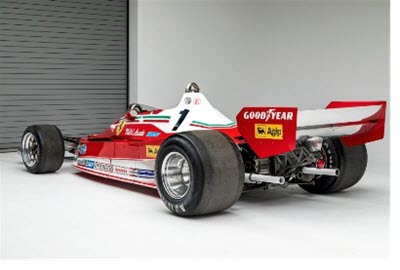 1976 FERRARI 312 T2

TOP SPEED: 180 MPH
ENGINE: 3 LITER OPPOSED-12
HORSEPOWER: 500
NUMBER BUILT: 7 (TOTAL 312 T2'S)

Driven by Niki Lauda, this T2 won both the Belgian and Monaco Grands Prix in 1976.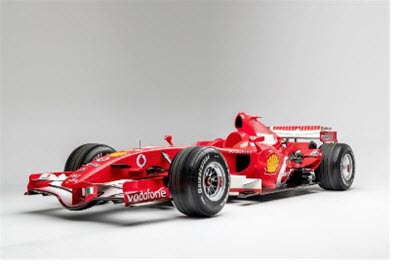 2006 FERRARI 248 F1

TOP SPEED: 217 MPH
HORSEPOWER: 785
ENGINE: 2.4 LITER V-8
NUMBER BUILT: 2 (TOTAL 248'S)

In his last season, Michael Schumacher drove this 248 Formula One race car, which was designed by Aldo Costa and Rory Byrne, and named for its 2.4-liter, eight-cylinder engine.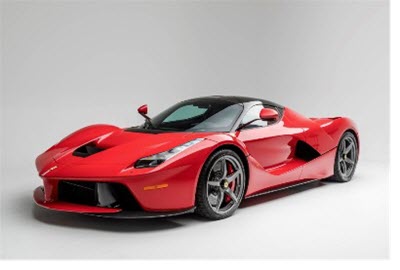 2014 FERRARI LAFERRARI

TOP SPEED: 218 MPH
HORSEPOWER: 949
ENGINE: 6.3 LITER V-12 HYBRID
NUMBER BUILT: 500 (TOTAL LAFERRARIS)

The LaFerrari was Ferrari's first production car powered by a hybrid drivetrain, combining a 161 horsepower electric motor with a powerful 6.3 liter V-12 engine.
Come celebrate 70 Years of Ferrari at the Petersen Museum, in the Bruce Meyer Family Gallery. You won't want to miss this stunning Ferrari exhibit. For more information about Seeing Red: 70 Years of Ferrari visit https://petersen.org/.