Sports Car Market on Bacchelli & Villa: From Beverly Hills to Bastiglia
Read what Sports Car Market has to say about Mattioli Automotive Group latest acquisition, Bacchelli & Villa, one of the most prestigious restoration shops in the world.
A California-based Ferrari dealer makes a big Italian connection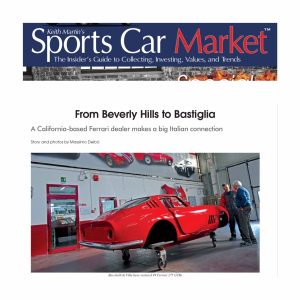 The Mattioli Automotive Group is going back to its Italian roots with the purchase of the world-famous Bacchelli & Villa restoration shop in Bastiglia, near
Maranello, Italy. Mattioli is known for amazing Ferrari dealerships in Beverly Hills, Los Angeles, South Bay and Silicon Valley in California. The company is now positioned to restore Ferraris in the birthplace of Ferraris. Franco Bacchelli, who founded Bacchelli & Villa with his now-deceased cousin Roberto Villa in 1972, said Mattioli is committed to local craftsmen and their tradition of excellence. "People are magic, and here they have a unique gift," Bacchelli said.
"That is the love they put in everything they do." You can always train a new worker to be good, but it's far better to train someone who knows and lives the local passion for work well done, Bacchelli said. "This is why, in this shop, the job interview is in the local dialect," Bacchelli said. "And we ask whether the tortellini are hand made at home." Bacchelli started working on top-notch Italian sports cars in 1958. "I turned 14 and, with my dad, took the bus to go to Modena to look
for a job for me," Bacchelli said. "The first place we entered — it was the closest to the bus stop — was Piero Drogo's shop. I remained, and learned my work until 1972, when, after military service, I decided to open my shop." Eventually, Bacchelli & Villa teamed up with Ferrari to repair and build cars, including the Ferrari 512 BB Le Mans cars. In 1995, Bacchelli & Villa entered the restoration business. Soon, cars that needed a new life started flowing into the shop.
Ferrari collectors such as Jacques Swaters and Charles Pozzi were the first to send their cars to the shop for restoration. Col. Ronnie O'Hare, Luigi Chinetti and Paul Pappalardo also sent cars. Bacchelli & Villa have restored 49 Ferrari 275 GTB cars, and they hope to soon start bringing the 50th back to life.
A connection with Mattioli Automotive Group's Ferrari dealerships in California — the largest Ferrari market in the world — ensures that business in Bastiglia will be brisk. "Now, with the new organization offered with MAG,we can imagine an even better and more successful future, and I'm absolutely thrilled for my workers," Bacchelli said. "Many of the second generation is working here, and I've been able offer them a safe future with Giacomo Mattioli and the Mattioli Automotive Group." In return, American Ferrari owners will get topnotch restorations from technicians who grew up building and repairing Ferrari cars, said Marco Arrighi, who is the new director at Bacchelli & Villa.
Arrighi is taking over the shop after almost 39 years at Ferrari, and he plans to maintain and expand the already high level of craftsmanship. "The project was too beautiful and interesting to say no," he said. "We use the same materials of the past, the same tools, and sometimes, the hands of the son of the man who did the car back in period." American restorers are considered some of the best in the world, so how does an old-school shop near Modena, Italy, attract business from the United States and around the world?
"When I first started working here, one of the first things Franco Bacchelli shared with me was the deep emotion he felt when Paul Russell, one of the most capable and renowned American restoration shops, visited this shop and congratulated him for the quality of the work," Arrighi said. "We know the cars from when they were new and how they were made." Still, quality standards have increased over the decades, and Bacchelli & Villa has improved with the times.
"If we repaint a car as was done in 1960, with the same lack of attention to detail, we would be out of business in a very short time," Arrighi said."The cars we restore are absolutely original, in every single detail, but they have a finish quality that is definitely better than original." The shop's goal is to work closely with the California-based Ferrari dealerships — and offer fantastic restorations to world-class cars and demanding customers.
"We'd love to have a 250 GTO in the restoration shop, as so far we have done only one, a 1964 car," Arrighi said. "And we'd like to have some SWBs — the most
beautiful car ever." Arrighi has a personal connection with lots of Ferrari cars, but he's eager to see one
model in particular enter the shop. "I have a special relationship with the 288 GTO because I was the one in charge of
the preparation and the start of its production line," Arrighi said. ♦
Story and Photos by Massimo Delbo' @ SportsCarMagazine
For Inquiries, please do not hesitate to contact Marco Arrighi at: [email protected] ♦ +39.059.90407