Rév Auto at Sherwood Country Club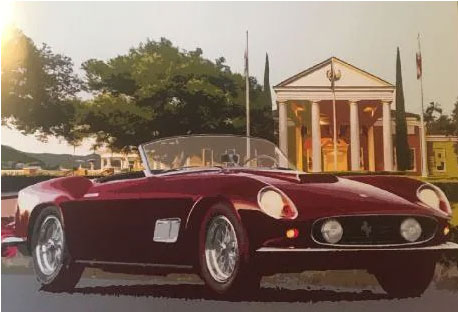 Celebrating 70 Years of Ferrari, Sunday February 26th, 10AM – 2PM
Ferrari Westlake is a proud partner of the 2017 Rev Auto at Lake Sherwood, an automotive concourse d'elegance that in its first edition will be celebrating the 70th anniversary of Ferrari.
After a successful 2016 Westlake Village Concourse d'Elegance, 2017 sees the very first edition of Rév Auto, the Révolution de L'Automobile honoring design, craftsmanship, artistry, passion and pride for beautiful automobiles.
Rév Auto will be hosted at renown Sherwood Country Club at Lake Sherwood, just minutes from our showroom in Thousand Oaks. Sherwood Country Club is styled after a Georgian estate and situated among stunning gardens, fountains, lakes and century old oaks, forming the ideal backdrop for Rév Auto.
The 2017
Rév Auto
will see a
hand-picked selection of significant Ferraris, showcasing the history of the marque's 70 year anniversary, in addition to pre-war classics, 50's/60's European sports cars and modern super cars.
Ferrari highlights will include among others a 1952 Ferrari 212/225 Barchetta by Touring Superleggera (Enzo Ferrari's gift to Henry Ford II) and a 1958 Ferrari 250GT LWB California Spyder originally owned by Brigitte Bardot.
Attendees will enjoy an endless brunch with bottomless mimosas, access to a Ferrari Atelier and Boutique by Ferrari Westlake, VIP lounge areas and suites, and live jazz performed by multi Grammy-award winning artists.
Sunday, February 26, 2017 | 10AM – 2PM at Sherwood Country Club

Adult Ticket $150.00

14 and Under $75.00
*Limited ticket
s available – tickets are NOT available for purchase at the event.
Charitable donations raised by Rév Auto have contributed to local programs such as the Westlake Village YMCA, Cornerstone Preschool, the Petersen Museum and St. Judes the Apostle School. By entering code "SJS" at checkout,
Rév Auto
will donate $50 to St. Jude School from each ticket.