Fresh From the Press: Cavallino Magazine on Bacchelli & Villa
On its 225th issue (June/July 2018), Cavallino Magazine – one of the most respected sources of everything Ferrari for over 40 years – has covered the life of the "famous and revered" Bacchelli & Villa. Read about the journey of Bacchelli & Villa and its plans under the MAG Group through the eyes of Keith Bluemel and Cavallino Magazine:

"Carrozzeria Auto Sport (de Bacchelli & Villa), in Bastiglia to the north of Modena, was founded in 1972 by Franco Bacchelli & Roberto Villa, to maintain and repair sports and racing cars. Franco Bacchelli was the first employee at Piero Drogo's Carrozzeria in 1960 where he worked for eleven years, whilst Roberto Villa learned his aluminum skills at the renowned Carrozzeria Scaglietti. As was well know, both of these companies had strong connections to the Factory… The surnames of the founders have always been synonymous with the maintenance, repair and restoration of the predominantly competition cars and quickly they built a reputation for the authenticity and quality of its work. This didn't go unnoticed in at the Ferrari Factory, and only four years after starting their operation, in 1976, they were made an official Ferrari body shop. This was the start of an ongoing collaboration with the Ferrari Factory in Maranello and also the factory 's then Assistenza Clienti facility in Modena. After some privateer efforts at Le Mans with the 365 GT4 BB and the 512 BB by Luigi Chinetti's North Americam Racing Team, the Ferrari factory agreed to produce a race version, which then became known as the 512 BB/LM. IN 1978 Bacchelli & Villa were awarded the contract by Ferrari ti construct these client race cars for their Assistenza Clienti department in Modena, as the Factory competition's department was concentrated solely on F1. Between then and early 1982, a total of just three "normal" and twenty-five "silhouette" (with bodywork designed in Pininfarina's wind tunnel) examples were produced, cementing the company's close ties with Ferrari, with whom they have worked ever since in a number of veins.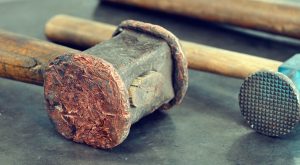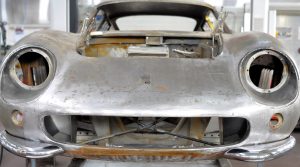 Bacchelli & Villa has restored numerous significant road cars, including no less than fourty-nine 275 GTBs and a quarter of the total 250 LM production over the years. However, it hasn't only been just Ferraris, but also other prestigious home brands like Lamborghini and Maserati, including a fine Maserati Quattroporte for ex-Ferrari F1 driver Rene' Arnoux, a Maserati A6GCS with Frua coachwork that won Best in Show at Villa d'Este in 2003 and an ex Shah of Persia Maserati 5000 GT.
In 2005 they became a Ferrari Classiche Preferred Body Shop, and since that time they have carried out bodywork restorations on a number of significant Ferraris for the Classiche department, such as the ex-Stee McQueen 275 GTB/4 to its original Berlinetta configuration – after a subsequent owner had it converted to a spyder – a pair of 250 LM, one of which achieved Platinum and won the Coppa Dodici Cilindri award at the 2014 Cavallino Classic, a 250 GT SWB Berlinetta and a 250 GTO."
To be continued…
The next time you are in Maranello, we would love to have you as our guest and give you a personalized tour of the Bacchelli & Villa restoration shop. For additional information Bacchelli & Villa, please do not hesitate to reach out at [email protected].
To Subscribe to Bacchelli & Villa updates, please click HERE
For the latest news in the Classic Cars World, subscribe to Cavallino Magazine by Clicking Here