Ferrari North America Pebble Beach Activities
Ferrari North America Pebble Beach Activities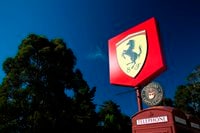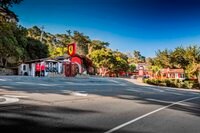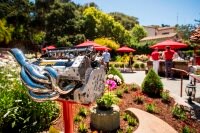 Location 70 CA-1, Carmel Highlands,
Carmel-by-the-Sea
Hours of Operation August 17-21, 2016
from 9am to 5pm daily
In its inaugural year, "Casa Ferrari Carmel" proved to be an instant success. Nestled along Route 1 in the Carmel Highlands, the signature white buildings with red trim and terracotta roof inspired by Enzo Ferrari's home at the legendary Fiorano racetrack were instantly recognizable and the experience that was delivered was uniquely Ferrari in every way. Amongst the frenzy of activity that surrounds Monterey Car Week, Casa Ferrari Carmel proved to be an immediate standout and we are thrilled to announce the return of "Casa Ferrari Carmel" in 2016.
The VIP hospitality area is reserved only for Ferrari clients and their families. The experience will be open throughout each day and include complimentary Italian cuisine, wine, champagne and coffee. Additionally, Ferrari Concierge services will be available on site, Atelier appointments will be offered by appointment and the Ferrari Prima collection will be showcased and available for purchase.
Outside of the VIP hospitality area reserved for clients, there will be several areas accessible by the public throughout Casa Ferrari Carmel.
These areas include the following:
• The Piazza, where each day a rare and iconic Ferraris will be displayed.
• The Pit Stop, offering a full-service filling station and quick detailing for Ferrari owners.
• The Ferrari General Store, an inviting space offering espresso, gelato, wine and cheese as well as select Ferrari merchandise.
Ferrari Hospitality Suite at the Pebble Beach Concours d'Elegance
Location The Lodge, 1700 17-Mile Drive,
Pebble Beach, CA 93953
Hours of Operation August 21, 2016
from 8am to 5pm
Primarily located within The Lodge at Pebble Beach, the Ferrari VIP Hospitality Suite boast a fantastic panoramic view and provides an exclusive hospitality experience for Ferrari clients during the Pebble Beach Concours d'Elegance. Access to the Ferrari VIP Hospitality Suite is limited to Ferrari clients who purchase the Ferrari VIP Hospitality pass and will be strictly enforced the day of the event.
Offered at a price of $600 per pass, each pass includes the following:
• Entrance to the Pebble Beach Concours d'Elegance with exclusive early access to the show field on from 8:30 -10:00am on August 21, 2016
• Access to fully catered (breakfast, lunch, afternoon snacks, beverages and bar service) Ferrari VIP Hospitality Suite from 8am – 5pm on August 21, 2016